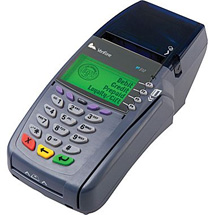 Select A Free Credit Card Machine For Your Business
Choosing to get a credit card machine at your business may seem like an easy choice. Many people choose to only carry credit cards with them when they go shopping, and if you are unable to accept their card for payment, it can lose sales for your business. At Total Merchant Services, we are here to help you prevent that, with quality merchant services and a free credit card machine for your business.
Finding a quality credit card machine is only half the battle. You need a reliable merchant service provider that will help you process your credit card transactions without charging you a high fee. We offer all that and more; our credit card machines can be used at any type of business, and our rates are some of the lowest in the industry. We also offer a free wireless credit card machine for mobile businesses, or businesses that don't have access to a phone line or high speed internet.
Finding a credit card machine for small business can be difficult as well. There are plenty of options to choose, and you can never be sure that you are getting the best one unless you do a lot of research. We take care of that for you; our firm has years of experience, and we stock some of the highest quality Hypercom credit card machines available in the market today. Aside from our quality Hypercom credit card machine, we also offer a number of other credit card machine options to our customers. Each of them have their own benefits and drawbacks, with some of them being extremely evident, like with our wireless credit card machines that work via a radio signal. This type of credit card machine is perfect for a mobile business, like a taxi, limousine, or landscaper.
Each business credit card machine that we offer is high quality and will work seamlessly with your business. We also offer a free wireless credit card machine to our new customers. Regardless of your needs, you can count on Total Merchant Services to deliver on them.
Another popular option with our mobile business is to forego a credit card machine and instead choose to use their smartphone. This is another option, and we supply a swiper that plugs directly into your headphone jack, allowing you take credit cards any time that you have your cell phone available. Depending on your needs, you can get a customized service plan just for you, and the low rates that we offer to all of our customers.
Don't hesitate; we charge no application fees or annual fees, and your credit card machine is available for free. Choose Total Merchant Services for your credit card processing needs and let us help you grow your business.
---
Contact Us – Serving the US and Canada Only