Get a free credit card machine!
Sign up as a new customer with North American Bancard and receive a free credit card machine!  Choose a state-of-the-art terminal that is wired, wireless, mobile or online – whatever best suits your business needs.  The credit card machine will be shipped to your home free of charge, 2nd day air.  We will also help you program the machine and we offer 24/7 technical support.
Free Countertop Credit Card Machine
Lightweight and stylish, the iCT220 credit card machine is a rugged, easy-to-use countertop device that gives merchants the freedom to accept electronic card payments, with or without an interface with a cash register or POS system. All iCT220 functions – from payment processing and receipt printing to settlement reporting– operate flawlessly from a single, secure device.
Highest Security
The iCT 220 credit card machine meets the highest security requirements and is PCI PTS 2.x and 3.x certified with SRED and Open protocol modules. The optional PIN privacy shield provides additional PIN entry confidentiality.
Designed for Merchants
Among the world's smallest and lightest devices, the iCT 220 is designed for easy handling and robust daily use. The backlit keypad makes PIN entry and menu navigation easy and intuitive. Also, the large keys and power buzzer speed transactions and reduce PIN entry errors.
All Payment Options
The iCT 220 credit card machine allows merchants to accept all electronic payment methods including EMV chip & PIN and magstripe.
All Connectivity & Communication
Equipped with an unparalleled array of communication technologies such as high speed modem or Ethernet, the iCT 220 delivers anytime, anywhere connectivity.
Robust Performance that Leads and Exceeds
The VX 520 is a reliable, rugged countertop device that's built to last. It handles encryption, decryption and processing at lightning speeds thanks to its powerful processor and expandable memory. Integrated NFC capabilities support alternative payments and also supports value-added applications such as loyalty or gift card acceptance.
A full range of connectivity options, from dial to dial plus Ethernet, with an optional battery allows the VX 520 to go wherever you go. A uniquely designed communication port area underneath the device keeps countertops neat and free of clutter.
Key Benefits:
Fast Processing
Faster checkout speeds allow you to complete more transactions and get consumers on their way more quickly.
Easy to Use
Countertop unit is designed for easy use and includes a backlit screen and keypad for all lighting situations.
Reliable Functionality
Get more out of your investment – the VX 520 delivers performance, reliability and long-lasting functionality.
Free Wireless & Mobile Credit Card Machines
The iWL 255 is designed with reliable 3G technology, for the most demanding environments.
Highest Security
The iWL 255 meets the highest security requirements and is PCI PTS 2.x and 3.x certified with SRED & Open protocol modules
All Wireless Connectivity
Featuring 3G cellular technology– the iWL 255 delivers enhanced network quality of service. Multicom capabilities ensure smooth integration of the iWL 255 into multi-device solutions.
Designed for Mobility
Designed specifically for mobility, the iWL 255 provides extended battery life, in a lightweight, robust, compact-sized design and features a wide backlit keypad for outstanding display readability inside or outdoors.
All Payment options
The iWL 255 accepts EMV chip & PIN, magstripe and NFC/contactless, as well as enables new NFC couponing and e-wallets.
Long Battery Life
Anticipating active use in remote environments, Ingenico Group focused on delivering outstanding battery life. In most cases, the iWL 255 is designed to run all day in the most active retail environments.
Outstanding Printer
The iWL 255, 30-lines-per-second printer is one of the fastest on the market, for on-the-spot checkout efficiency.
Process Credit Cards with Your Smartphone or Tablet
Our free mobile credit card swiper connects directly connects to your smart phone or tablet. Free payment processing software is also included.
Get real-time authorization for swiped and keyed transactions
Use Signature Capture on touchscreen devices
Email receipts to your customers
Check transaction history and reports on your phone or online
Online Credit Card Processing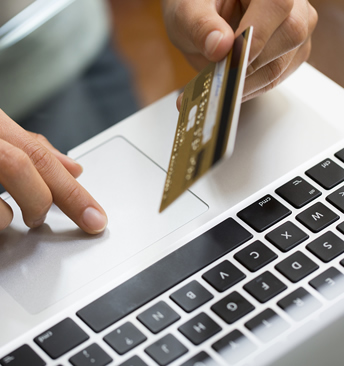 Get setup for online credit card process quickly and easily
Grow your business and expanding sales. Using our all-in-one processing package, you can easily accept credit cards online.  North American Bancard will set up your merchant account and also provide you with the software you need to get started.  There are no set-up fees, no monthly minimum and we provide 24/7 support.
Our secure, web-based software will allow you to:
Authorize, process and manage mail or phone credit card payments from your computer.
Bill customers, charge cards and process payments securely on a scheduled, automatic basis.
Sell your products online through a hosted pay page connected to your website.
Accept payments for goods from your website shopping cart.