What is a credit card reader?
A credit card reader gives you the ability to accept credit cards using an iPhone, iPad, Android and other mobile devices.  A credit card swiper has a small dongle that attaches to your mobile device by plugging it into either the headphone or auxiliary plug of a tablet. (See below).  A credit card reader also comes with a mobile app that is used to process credit card payments.

Benefits of using a credit card reader
With a credit card reader you take the sale to your client.  Talk about convenience!  This mobile point of sale solution is secure and comes packed with features via a mobile app.  You can accept credit cards, make refunds, and even accept cash payment. Furthermore, a credit card reader is hands down the most flexible credit card processing solution.
About our FREE credit card reader
When you sign up for a new merchant account with Total Merchants Services we provide you with a FREE Payment Jack credit card reader.  That's right, there is no upfront fee for the swiper. The mobile app is also free.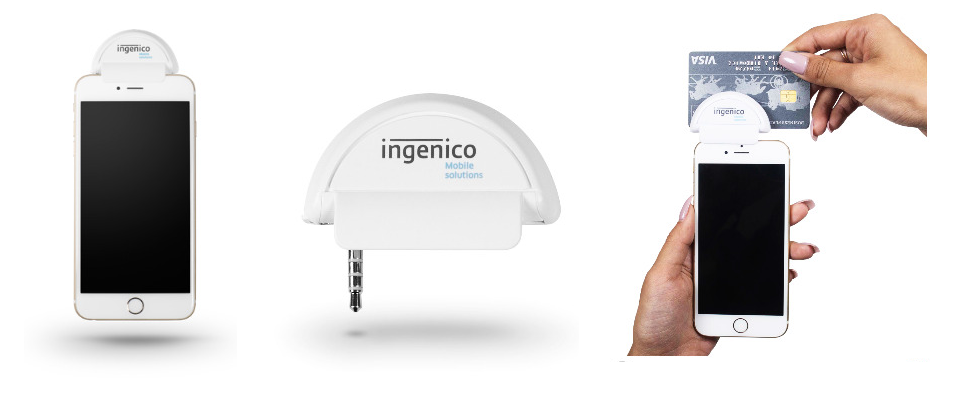 Features Include:
Payment Jack enables you to accept every major credit card with your mobile phone. This includes MasterCard, VISA, American Express, and Discover.
Set a tax rate and it will auto calculate into the total sale.
It is easy to accept tips.
All transactions are recorded and can be exported for better management and organization.
Keep track of customer contact details and build up customer base for targeted marketing.
Offline transactions are available when you do not have access to a cellular or WiFi signal.  Transactions are stored securely until you can upload them at a later time.
You can issue receipts to your customers immediately or email receipts to your customers' email addresses.  This is true for cash or credit payments.
Payment Jack credit card processing is quick and professional.
All payments are encrypted to ensure protection for you and your customers.
With Payment Jack you can process and record voids and refunds for credit and cash transactions.
Receive your FREE credit card machine when you sign up for a merchant account!