Mobile credit card processing with PhoneSwipe
Now Everything You Wanted – A Free Cell Phone Swiper
Benefits Include:
PHONE SWIPE RATE 2.69%
NO TRANSACTION FEE
NO MONTHLY FEES
KEYED RATE 3.49% +.19 PER TRANSACTION
PLUS NO CONTRACT
NO CANCELLATION FEES
NO PCI SECURITY FEE
FREE CARD READER INCLUDES SHIPPING
Mobile credit card processing is perfect for:
plumbers
electricians
carpenters
carpet cleaners
landscapers
limo drivers
craft shows
trade shows
flea markets
When you sign up for mobile credit card processing with North American Bancard, you are entitled to a FREE PhoneSwipe.  PhoneSwipe is a swiper that works with your smart phone and gives you the ability to accept credit cards.  We have a low swipe rate with no monthly fee.
While Square (another popular swiper) offers the same type of product, there are some big differences. Square has a swipe rate of 2.75% and key entered transactions are 3.50%.  Furthermore, even though Square does not charge a monthly fee, there is a  .15 per transaction fee. In addition to the higher cost, reviews of Square on Google expose problems.  There are many complaints regarding their cell phone payment system, including the holding funds and customer service issues.
Though most credit card processing on smartphones consists of swiped transactions, there are times when transactions must be key-entered. Increased rates for keyed transactions, plus a per transaction fee, can add up!  Our low swipe rate and no monthly fee will save your hard-earned profits.
Finally, with PhoneSwipe there are no application or setup fees, no monthly minimum or annual fees, no PCI fee, and no contract or cancellation fees.
Receive your FREE credit card machine when you sign up for a merchant account!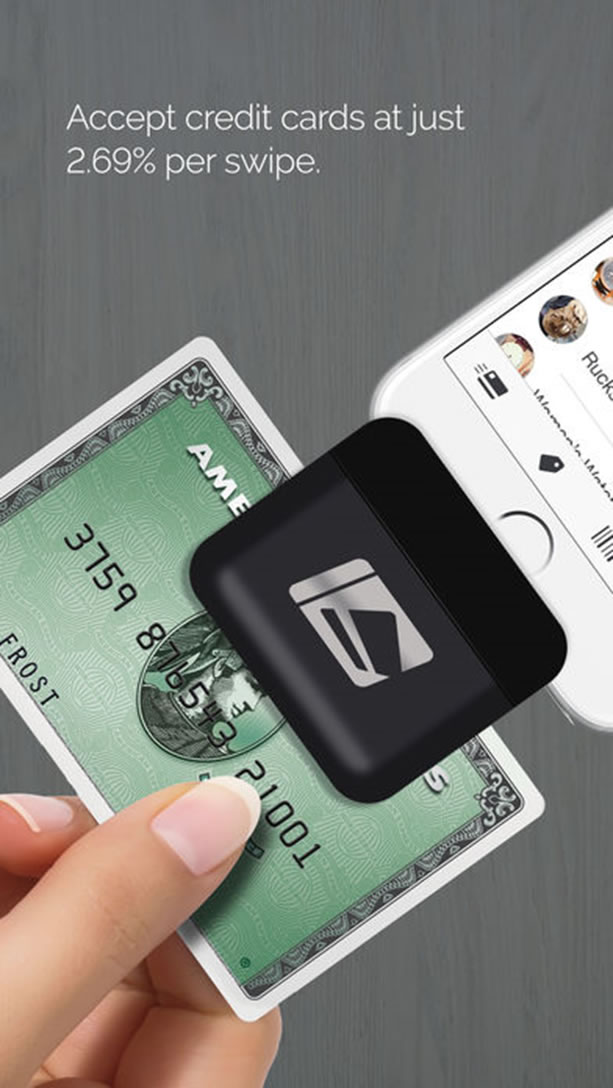 Why use PhoneSwipe?
With a few simple modifications, you can turn your cell phone into a mobile credit card processing terminal. Simply attach the credit card swiper to your cell phone and you are ready to accept credit card payments. Download the mobile app and you can keep track of your sales… cash, credit and debit.  Consequently, your customers can split their payment method, paying part of their bill in cash and the rest on their credit or debit card. Transactions take seconds and you can email a receipt to your clients.
 Mobile credit card processing works the same as a wired terminal.
Processing transactions using a cell phone is similar to processing transactions using a POS system or a wired terminal. Once you swipe the card, or manually enter in the card data, the payment type and the amount, the transaction is sent through the processing network. You will receive either a payment authorization or a declined payment. When a payment is declined, it can also include other messages which should be followed. For your authorized payments, you may want to write down the authorization number on your receipts for easier record keeping.
 Mobile credit card processing without any equipment.
Another option for using your cell phone for mobile credit card processing is the "touch tone" method.  This method does not require a swiper or any other equipment.  Using the "touch tone" method, you place a call to a toll-free number to approve each transaction. After dialing the toll-free number, you follow the voice prompts to obtain an authorization code. You may have to dial different numbers depending on the type of payment. Your merchant account number is required when using this method. Since this is a paperless system, it is a good idea to write out a paper receipt for your customers, including the authorization code.
Receive your FREE credit card machine when you sign up for a merchant account!