Retail credit card processing
Starting a new business not only takes time and dedication, it can also be very costly!  You can save some of your hard-earned profits by signing up for retail credit card processing with North American Bancard. We offer competitive rates on our merchant accounts, and we also provide our new retail customers with a FREE credit card machine!  As the average business owner can spend $1,000 or more on a credit card machine, this is quite a substantial savings.
Our free credit card machines are delivered to your door in ready-to-use condition and include a thermal printer and power supply.
Setting up a merchant account is easy and includes:
Low rates
FREE state-of-the art retail credit card processing machine
Credit card machine is shipped free, 2nd day air
Credit card machine is programmed for free & training is free
Tech support is available 24/7
No application or set-up fee
No annual fee
Merchant account can be accessed 24/7
Receive your FREE credit card machine when you sign up for a merchant account!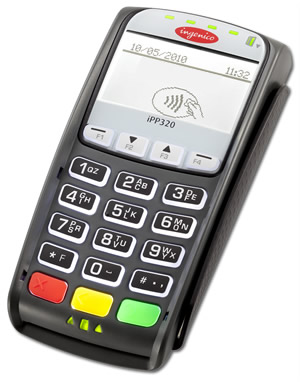 EMV Compliance, prevent fraudulent transactions with Chip and Pin Security.
NFC Enabled, easily accept contactless payments, such as Apple Pay, Google Wallet and Softcard™.
Supports credit and PIN debit transactions with internal PIN pad
Dual communication: both dial and high-speed IP connection supported.
Telium 2 technology installed for high speed transaction approvals.
Don't have the ability to accept credit cards?  You are losing potential customers.
Operating a business effectively requires that you have the ability to accept payment from multiple methods. You lose out on a large amount of potential sales if you only accept cash or check payments. Fewer and fewer people are paying for merchandise and services with checks.  As a result, in this day in age retail credit card processing is necessary to grow your business.
What type of credit card machine is right for you?
The type of credit card equipment you will need depends on the type of business you operate. Retail stores, restaurants and other businesses with physical locations will want at least one physical credit card machine.  You could also use an integrated terminal.  An integrated terminal is similar to a credit card machine, but is added to your current computerized POS system.
When comparing merchant service providers, look for this…
When you look for retail credit card processing options for your business, make comparisons between providers. Look for service providers who feature free equipment, no setup fees, no annual fees, and low rates… like our company!  Adding the ability to accept credit cards should not be a major expense for your business.  Know the rate structure.  Make sure all of the details are spelled out.
You have options when selecting a credit card machine.
There are different types of credit card machines that you can use for retail credit card processing. The credit card machine that is best for you is often influenced by the size of your business and its location. For example, wireless machines are an excellent choice for mobile businesses and businesses without a central checkout location. Wireless transactions can be performed right in front of your customer.  As a result, they can make sure the sale amount is accurate. In addition, using a wireless machine also reduces the likelihood of credit card skimming.
Become familiar with your new retail credit card machine.
Using a credit card machine is not difficult once you become familiar with your new machine. Practice makes perfect!  You can practice using your own credit card, just make sure you cancel the transaction instead of submitting it.  If you accidentally submit the transaction, you will need to process a refund to have your funds returned.
Receive your FREE credit card machine when you sign up for a merchant account!