Boost your business with wireless credit card processing.
Starting a new business not only takes a time and dedication, it can also be very costly!  Save some of your hard-earned profits by signing up for a merchant account with Total Merchant Services. We offer competitive rates and new retail customers receive a free credit card machine. Since the average business owner spend $1,000 or more on a credit card machine, you enjoy a substantial savings!
We deliver your free credit card machine to your door in ready-to-use condition.  A thermal printer and power supply are also included.
A wireless credit card processing account includes the following features:

We offer low rates
You receive a free state-of-the art credit card machines
A credit card machine is shipped free, 2nd day air to your home
The credit card machine is programmed for free & training is free
We offer tech support 24/7
There are no application, set-up, or annual fees
You gave 24/7 access to your merchant account online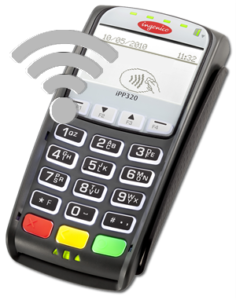 EMV Capable, prevent fraudulent transactions with Chip and Pin Security.
NFC Enabled, easily accept contactless payments, such as Apple Pay, Google Wallet and Softcard™.
Supports credit and PIN debit transactions with internal PIN pad
Dual communication: both dial and high-speed IP connection supported.
Telium 2 technology installed for high speed transaction approvals.
Why choose to use wireless credit card processing?
Whether you are just starting to accept credit cards or upgrading your system, a wireless credit card machine is a great choice!  A brick and mortar company will enjoy the mobility that comes with wireless credit card processing.  It is also more flexible than a traditional machine. You can install the machine in places that would otherwise be too difficult to route a phone line or high speed internet cable.
A portable credit card machine operates from a built-in rechargeable battery. As long as the battery is fully charged, you do not have to worry about finding an AC outlet.  Also, a wireless credit card machine does not require any type of wired phone or internet cable. Transactions are processed securely over wireless networks, using cellular telephone towers.
Wireless credit card machines work like a cell phone.
A wireless credit card machine requires a wireless connection similar to the kind used by a cell phone. While the technology is similar, you do not have to rely on a hot spot or a land-based phone line.  A data signal is used to process your transactions. If your business is not tied to a physical location, you can benefit from using a mobile unit.  Sign up for our merchant services and receive a free credit card machine.
If you are watching, they can't skim your card.
No doubt, skimming is a problem today and one your business needs to consider.  Skimming can take place when a customer hands an employee his credit card and the employee leaves the room. Sometimes the card information is swiped into a skimming device. Other times the card information is manually written down on a piece of paper. While you cannot stop customers from using stolen cards, you can stop your employees from skimming.  Using a wireless credit card machine allows you to swipe credit cards in the presence of your customer.
The features of wireless and wired credit card machines are similar.
Wireless credit card machines are preferred over wired terminals by some businesses. The reasons vary from one business to another, but the features are similar. You can swipe credit and debit cards through either machine. You also have the ability to manually key-in card numbers if the magnetic strip cannot be read. Both machines print receipts.  Access to end-of-day features and reports is available on both systems as well.
Wireless credit card machines have a few differences from wired machines.
There are a few differences between wireless credit card machines and wired machines. The most noticeable difference is that a wireless machine does not have to be plugged into an AC outlet. They come with a built-in rechargeable battery. Another difference is that wireless machines use cell phone towers to process transactions, instead of a cable or phone line.