A small business is unique and requires a credit card processing solution that is flexible and affordable.
What is the best credit card machine for small business?
Our all-in-one small business merchant account package meets both of those needs.  Not only will you receive a merchant account at some of the lowest rates in the industry, we will also give you a free credit card machine. The state-of-the art machine will be delivered to your door 2nd day mail.  As always, there is no contract, no setup fees, and no monthly minimum.  A credit card machine for small business can include a number of solutions.  Read on and choose the solution that is best for you.
Wireless credit card processing
If your business is on-the-go, wireless credit card processing is a great solution.  A wireless credit card machine operates from a radio signal, much like a cell phone, however you do not have to rely on a hot spot. It comes with an internal battery that, when fully charged, will last the whole business day.  That means you won't have to seek out an outlet to recharge your machine.  Most importantly, our wireless credit card machines come with state-of-the-art security and are PCI compliant.
Our most popular item, the Ingenico  iWL  255, comes with the following features:
Security Smartcard Magstripe Contactless Color display GPRS 3G Connectivity
Meets the highest security requirements and is PCI compliant
Uses 3G cellular technology
It is designed for mobility with an extended battery life
Lightweight design
Features a backlit keypad for indoors or outdoors reading
Sccepts EMV chip & PIN, magstripe and NFC/contactless, as well as new NFC couponing and e-wallets
30-lines-per-second printer is one of the fastest on the market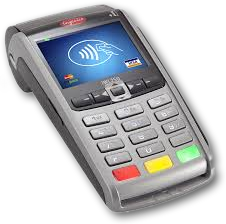 Mobile credit card processing
A credit card machine for small business that you can take with you wherever you go!  With a few simple modifications, you can turn your cell phone or tablet into a mobile credit card processing terminal. Simply attach the Payment Jack credit card swiper to your cell phone and you are ready to accept credit cards. Download the mobile app and you can also keep track of your sales.  With the credit card swiper you can accept cash, credit and debit payments.  Consequently, your customers can split their payment method, paying part of their bill in cash and the rest on their credit or debit card. Transactions take seconds and you can email a receipt to your clients.
Features include:
Real-time authorization for swiped and keyed transactions
Signature Capture on touchscreen devices
You can email receipts to your customers
Check transaction history and reports on your phone or online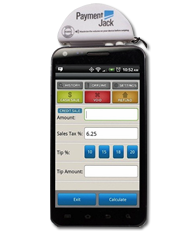 Accept credit cards online
Sometime you don't need a credit card machine for small business.  We have a secure web-based solution (a virtual terminal) that allows you to accept credit cards online.  You can still accept and manage payments from customers without a credit card being present.  All you have to do is key in credit card information from you computer.  We have partnered with Authorize.net to bring you one of the oldest and most respect payment gateway in the industry.  The software you need to manage payments is free and there are no setup fees.
Features include:
Authorize, process and manage mail or phone credit card payments from any computer.
Bill customers, charge cards and process payments securely on a scheduled, automatic basis.
Sell your products online quickly and securely through a hosted pay page connected to your website.
Accept and integrate payments online from your website shopping cart.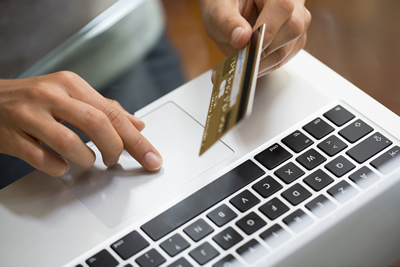 Now that you have picked out your solution, just give us a call at 1-800-896-6501 and we will help get you started with our low rate merchant services!
Receive your FREE credit card machine when you sign up for a merchant account!